Breeding Giant African Land Snails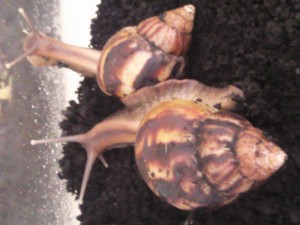 Many people get interested in molluscs by keeping giant African land snails. If you keep more than one giant land snail then you are likely to become a giant land snail breeder, whether you like it or not!
Giant African land snails are hermaphrodites, (each snail contains male and female parts), so any two snails are likely to start breeding. There have been some rare-cases of self-fertilisation although this is a very rare occurrence.
Different giant land snail species breed at different rates. The tiger snail (Achatina Achatina) is believed to have a three-year breeding cycle, whereas the common giant African land snail (Achatina Fulica) can breed up to six times a year.
Different species of giant African land snail are able to breed at different ages. Achatina Achatina are sexually mature at around 22 months, whereas it can only take 5 months for Achatina Fulica.
In general Achatina species lay the most amount of eggs, with up to 400 a time (though not all of them are likely to hatch). Due to both the snails being hermaphrodites, each snail is likely to lay fertilised eggs. These eggs are very small, around 5mm in length.
Archachatina species on the other hand lay far less eggs at around 6-30 per litter. The size of these eggs are considerably bigger than Achatina species eggs, being around 8mm.
Similarly different species of giant land snail will take different amounts of time to hatch. Typically the eggs will hatch after 3-6 weeks however there are some species such as the Achatina immaculata which have hatched after 9 days in some cases.
There is one species,В  Achatina iradelei, which doesn't lay eggs at all but gives birth to live young.
Giant african land snails are exceptionally easy to breed, and in some cases can cause problems due to the vast amounts of young that owners end up with. Suitable homes will have to be found for all the babies. Remember it is illegal to release any giant African land snails or their eggs into the wild due to their their invasive nature.
Before you breed them decide what you will do with the babies; there are a few possibilities:
Breed them for your local pet shop or garden centre to sell. If you do this, make sure the shop in question agrees to it.
Sell them to your friends. This isn't a long term solution though.
Sell them on the Internet; this is risky though as you won't know who your selling to and the snails may have to go in the post.
Breed them for reptile food. You could sell or give this to reptile centres.
Humanely dispose of them.
You may find that you need to humanely dispose of the young. If this is the case it is best to do it when they haven't hatched. The best way is to boil, freeze or crush the eggs. I have heard of people popping the eggs as well. When you throw these eggs away after this process make sure that there is no possible chance that they could still hatch as it is illegal for them to be released into the environment, even if it was not intentional.
When cleaning out the tank or vivarium, check the substrate for any eggs. A common way for these snails being released into the environment is that their bedding is being thrown away, without the owners knowing there are eggs in the substrate.
If you are keeping the baby snails and are going to breed them properly, it is best to remove the adults from the eggs and the babies as they could accidentally hurt them.
To stop your snails breeding you will need to separate them; be aware that they may still lay clutches of eggs after up to a year of separation as they don't lay the eggs until they feel the environment is right for them.
Any questions? Comment below.

June 6, 2010 В·

Maddia (Admin) В·

59 Comments


Tags: breeding giant afircan ladn snails, breeding giant ladn snails, breeding land snails, giant african land snails, Giant Land Snail Care, Giant Land Snails В· Posted in: Giant Land Snail Care, Giant Land Snail Information