Guinea Pig Colours
There are many different colours of guinea pigs, as there are with many other pets. Before you go to get your new guinea pig you may want to look up the different cavy colours and patterns as you may want a specific guinea pig variety if this is possible. Generally, whichever colour guinea pig you get, the amount of care your piggy requires will not vary unless the coats are of different lengths; although some owners find that white guinea pigs need more bathing than other guinea pigs.
At most a guinea pig can (usually) have three colours on it's body: a colour from the red series, one from the black and one from the red.
Many pet guinea pigs are of the American or English Short Hair breed and come in many different colours; there are also breeds such as the Himalayan guinea pig, where the colours of the individual guinea pigs don't vary much from one to another. Click here to see a list of Guinea Pig Breeds and images.
Here is a guide to guinea pig colours; I have provided a short description and a picture if one is available.
Agouti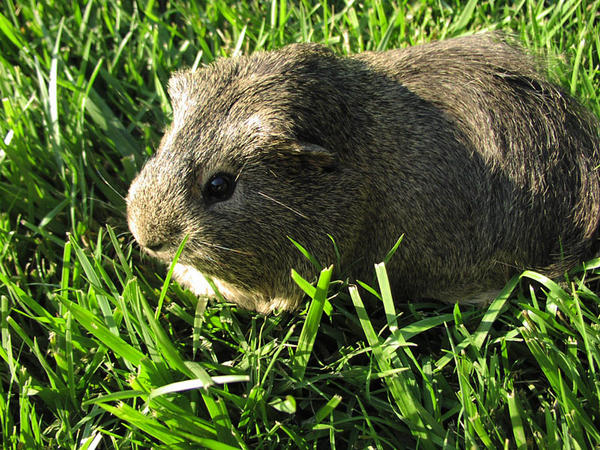 Agouti guinea pigs have a hair root that is a different colour to the hare tip. Often the root is the colour the guinea pig has from the black series, and the tip will is likely to be a colour from the red series. The Agouti colouring can appear in many breeds but most often it is confined to shorter haired breeds. The most common breed for the Agouti colouring to appear in is the American or English Short haired, but it is becoming increasingly more common in the Rex guinea pig. You can also get Golden Agoutis and Silver Agoutis.
Argente
Argente guinea pigs normally have a sleek coat that is a silver-grey colour as the most common seen coat colour is lilac with golden ticking. Argente guinea pigs have been seen in many colours, such as white/lilac and lemon/lilac. The Argente colour is a variation on the Agouti colour, and looks different to this breed because of its pink eyes and ticking on the hairs (although many Agoutis have this as well).
Bi-Colours
These guinea pigs have coats that are made up of two colours. Each colour is likely to be from one of the three guinea pig colour series: black, white and red.
Brindles
Brindle guinea pigs have hairs from the black series and red series that are evenly mixed throughout the coat. These hairs are not ticked as they are all one colour. Guinea pigs with the Brindle colour pattern are becoming increasingly more rare. Broken Coloured
Broken coloured guinea pigs have a coat made up of two or more colours from any of the colour series in any combination that isn't recognized as one of the other colours. Abyssinian guinea pigs are often broken coloured.
Buff
This colour can range from a cream to a brighter orange. Guinea pigs that are this colour tend to be those who have either short, sleek hair or long sleek hair. Abyssinian guinea pigs are rarely buff in colour due to their coarse, longish hair. The colour should be rich throughout the cavies whole body, with no hints of other shades of colour on the coat such as cream or apricot.
Cream Satin
In terms of colour the Cream Satin colour of guinea pig is very similar to the buff colour (see above). The coat should be a very rich golden colour that looks extremely sleek. It is one of the hardest colours to breed. The colour is usually restricted to short haired guinea pigs. Satins reflect light well form their coat due to the glass-like hairs which causes the hair to look ultra soft.
Dalmatian
Dalmatian guinea pigs are black and white. Their bodies have the base colour of white with black spots all over. The head should be a black colour with a white blaze down the middle, from the middle of the eyes to the nose (much like the head of a dutch guinea pig- see below). The guinea pig's feet should be the exact same shade of colour that the head is. NEVER breed a dalmatian with another Dalmatian or roan as it may pass a 'lethal' gene onto the young which can result in no eyes at all, blindness, lack of smell and many other problems.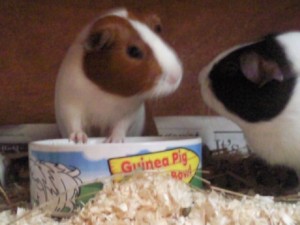 Dutch
Dutch guinea pigs have two colours, one of which should be white. they have round cheek markings of colour on their heads that should be as close to the whiskers without touching. In between their eyes they have a white wedge-shaped blaze that goes to a point between their ears. The actual body is divided into two parts, the rump being the same colour as the guinea pig's head, separated by a band of white. These markings are similar to those of a dutch rabbit. It is extremely hard to breed a guinea pig that has 'perfect' dutch markings. Dutch guinea pigs come in nine recognised colours.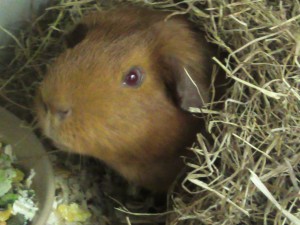 Golden Satin
The Golden Satin colour is basically a darker richer version of the Cream Satin. The coat can sometimes look more of a red colour than yellow. The colour should be there throughout the coat without any hints of other colours, such as cream or apricot, anywhere on the cavies. Harlequin
The Harlequin, chocolate or black, is a very pretty guinea pig. These guinea pigs' coats are made up of a patchwork of yellow and black/chocolate brindling, although the hairs aren't mixed evenly as with a brindle guinea pig (see 4th colour type on the list). The guinea pig's head should be equally divided into the two colours.
Himalayan
Himalayan guinea pigs resemble the pattern of siamese cats. Himalayan guinea pig's points change colour depending on the temperature of the environment they are in. When they are born they are completely white (due to the mother's body heat). As they get older their points get darker – the colder it is the darker the points. The points can range from a light beige to black, and are on the ears, nose and feet.
There is an actual Himalayan breed, but other breeds have 'adopted' the Himalayan colouring, so it is now also counted as a colour.
Magpie
Guinea Pigs with the Magpie colour are very similar to the Brindle colour (see near top of list) but with black for the black series, and red for the white series. These hairs are then evenly dispersed and mixed together.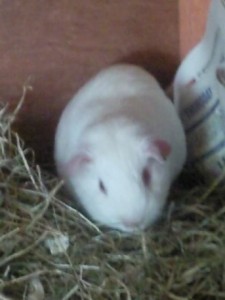 Pink Eyed White
This guinea pig has a completely white body with bright pink eyes, nose, ears and feet. These guinea pigs are often mistaken for albinos of breeds.
Pink Eyed Golden
Similar to the Pink Eyed White this guinea pig has a golden body but with pink eyes, nose, feet and ears.
Roan
Roan guinea pig look virtually the same as Dalmation guinea pigs apart from instead of having black spots on their white coat on the back and sides the hairs are mixed up together, much like a roan pony or cat. The head is normally a dark colour with a white blaze. NEVER breed a roan with a roan or dalmation as it can result in genetical defects from a 'lethal' gene being passed on; effects of this include blindness, no eyes, crooked teeth and loss of smell. The babies will be unlikely to survive with these problems so it unfair to breed them.
Self Colours
These guinea pigs have a coat that is made up of entirely one colour. Self colours include: Self Black, Self Beige, Self Chocolate, Self Cream, Self Lilac, Self Red, Self Saffron and Self White. These colours can appear in many different breeds but I believe they are confined to short hair breeds.

Solid Coloured
Guinea pigs of the solid coloured variation look much like cavies with the agouti colouring, but their stomach is ticked with colour as well. Like Agouti coloured piggies these guinea pigs can have solid patches of colour from the red series, but the black patches will always be ticked.
Toirteshell
The colour of a Toirteshell guinea pig is made up of patches of black and red. For show cases these patches should have definite lines between them and not run into one another. Patches are favoured over stripes.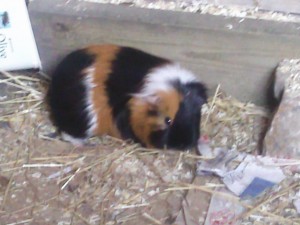 Toirteshell and White
Tortoishell and white guinea pigs have patches of white, black and red that are even in size. If you are showing the guinea pig, it is best to have patches that have strong lines between each colour. I believe that patches of colour are favoured over stripes.
Tri-Colour
These guinea pigs, also called 'dollie mixtures' and 'multi-colours' have a colour from each of the black, white and red series.
If you have any questions about Cavy Colours leave a comment and tick the box at the bottom of the comment form if you want the reply emailed to you. One of our admin team will try to answer your question as soon as possible.

August 25, 2010 ·

Maddia (Admin) ·

13 Comments


Tags: guinea pig breeds, guinea pig colors, guinea pig colours · Posted in: Guinea Pig Colours & Patterns, Guinea Pig Information