How Often Should My Horse See A Farrier?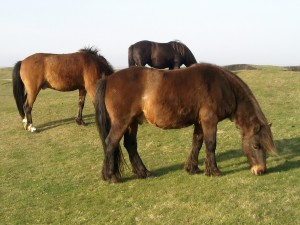 A farrier is someone who is trained in equine hoof care. Their skills are a combination of a blacksmith's job and veterinary care of the hoof. Some farriers will only cut the hooves, whereas others will fit new shoes to them if this is necessary.
Every horse or pony should have their hooves cut, but how often?
How often a horse needs to see a farrier will vary from horse to horse. I find that with my miniature Shetland ponies the farrier needs to come out about every 10-12 weeks depending on the state of the hooves.
If a horse has shoes on then it may be necessary for him or her to be shod every 4-6 weeks, although this does of course depend on the growth of the hoof wall and other parts of the hoof. However, with some horses if they are shod too regularly it damages the hoof wall and can cause the horse pain.
How to tell if your horse needs to see a farrier:
There are ways to tell if your horse needs to have their hooves cut. In most cases if the hoofВ  gets too long you will be able to see quite a lot of the new growth beneath the 'original hoof' as it may be a different colour or have a slight bulge to it.
If you notice that your pony has broken the walls of their hooves then this is another indicator that they will need to see the farrier. The longer a horse is left with broken hoof walls the more damage that could occur.
Alternatively, if you see any damage to any of your horse's hooves then the farrier should be called.
If you are not sure whether your horse needs to see a farrier you could ask someone experienced to come and look, maybe a friend who has horses of their own.
Having a horse's hooves cut should be completely painless for a horse. Some may not like having their hooves being held up but they shouldn't act as though it is hurting them. If they do, this is a sign that there may be something wrong with the hoof.
The farrier will start by clipping off any excess hoof. They will then use a file to smooth the surface of it and remove any rough edges. From experience I would say that for one horse it takes around 15 minutes at the most provided the horse behaves.
Some farriers will charge more if a horse is badly behaved when having its feet done.

June 5, 2010 В·

Maddia (Admin) В·

3 Comments


Tags: Animals, farriers, hooves, horse care, ponies, pony care В· Posted in: Horse and Pony Care, Horse and Pony Information