My Pets: Hermits Velvet Rose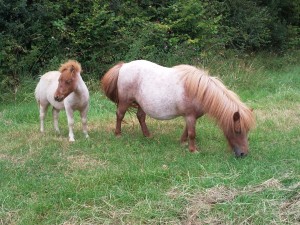 Name: Hermits Velvet Rose (Rosie)
Animal: В Pony
Colour: Strawberry Roan with white star on forehead.
Size: В 30 inches at the wither
Breed: Miniature Shetland
Gender: female
Birthday: 5th May 2003
I got Rosie on the 5th August 2011 when she and her foal, Mignon Velvet, were delivered to our farm. Initaially, I only bought her and her foal came on a loan basis until he could be weaned (late September 2011) but later I decided to buy him as well.
When Rosie first came to our house, we introduced her to our other ponies Gradbach and Tulip, and she was very wary of them and us, as she was in a new place with a foal to protect. However, after only a couple of hours she and Tulip had bonded really well.В  As she went straight in with our stallion we are hoping she will be in foal for 2012.
Rosie was my birthday present (although I didn't get her 'til much later!). She is an adorable little pony and such a beautuful colour!
Rosie came from the Mignon stud.

September 10, 2011 В·

Maddia (Admin) В·

Comments Closed


Posted in: Goldsytch Miniature Shetland Ponies, My Shetland Ponies