Weaning Victor – Day 1
Wednesday 26th October 2011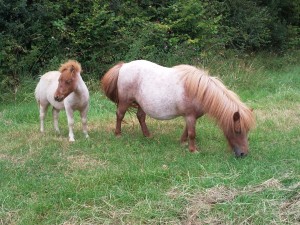 This morning I decided it was time to wean Victor, our lovely mini Shetland foal (he's five months and three weeks old). We've decided to move him into the field next to his mum, Rosie, along with Gradbach, our lovely gentle stallion who gets on well with the foal, leaving Rose with Tulip. This morning all four ponies were in the mares' field, so I had to get the boys out without the girls following. Quite tricky considering there was only one of me!
Firstly I went down, first thing in the morning, just to see how they all were. It was rather amusing as as soon as I told Victor he was to be weaned today he went over to Rosie and began suckling straight away – and she let him (recently she's been kicking him away).
I came back down with head collars about half on hour later to find Victor was suckling again – taking his last opportunity! caught all the ponies and put head collars on them all, and then lead Gradbach up to the gateway and the rest followed. I then opened the gate and pulled Gradders through, shutting it quickly as Tulip was desparate to follow her old friend. I then let Gradbach go and went back to get Victor. He was at the salt lick and so was rather easy to catch and lead through the gate. Remarkably I got him through quick enough to stop Rosie or Tulip following. I then took the head collars off all the ponies and waited down in the field – standing at the gateway between the two pastures – to watch the ponies and make sure they're all ok.
Gradbach went off exploring and familiarising himself with his old field. Rosie seemed quite distressed at being separated and continually was calling for her foal. Victor, on the other hand, went trotting off with Gradbach to explore, ignoring his mother's neighs. Tulip just stood about next to Rosie, grazing every now and again.
Victor appeared to settle very well with Gradbach and only occasionally went back to see Rosie. After about an hour and forty five minutes I was satisfied that the ponies were all ok, so I went back indoors.
We were going out that afternoon, so I checked the ponies again before I left, and then we went out. And then when we got back, I went into the boys' field and only Gradbach was there! And Gradbach was running around, his nose to the ground, looking for Victor. He seemed really worked up and really worried. Upon seeing me, he came running over neighing at me trying to tell me something was wrong.
I realised what had happened – somehow Victor had got through into his mother's field. I quickly went and got a head collar and lead rope and went and caught young Victor, and brought him back to Gradbach's field (luckily without letting the mares in). And boy, was Gradbach pleased to see him!
However, as it was late, and we weren't sure how Victor had got through we decided it best to let both he and Gradbach back into the mares' field and look at the fences tomorrow. So that was what we did.
It's very surprising that Victor did get out. We've had Gradbach and Tulip in that field before, as well as lots of cows, and none of them got out! I also checked all the boundaries this morning and they appeared to be fine.

October 28, 2011 ·

Maddia (Admin) ·

Comments Closed


Tags: weaning foals · Posted in: Goldsytch Miniature Shetland Ponies, My Pet Updates, My Shetland Ponies